Welcome to my Sanctuary
for Peace and Sensuality.
Do you need to renew your faith in human kindness?
Long for calm, beauty, care?
Ready to heal in your heart and invigorate your health?
I am Oceana, Tantra therapist, healer, caregiver.
Offering sessions to mature, respectful individuals & couples.
"Live wholly, love deeply, laugh often" xo Oceana
Tantric healing sessions in South Florida: Boca Raton, Fort Lauderdale, Palm Beach, Miami. Flexible travel and hosting accommodations for your maximum enlightenment and calm.  I do require a phone call to discuss meeting and see if you are someone I feel I can support.

Email directly For Bookings in Florida
SensualByNatureTantra@gmail.com
Discover more For Bookings in New York
www.sensualbynaturestudio.com
Let me ask you. . .
Do you have an innate wish for security coupled by the wish to explore realms of fantasy, surprise, spontaneity, and mystery within and around you? 
Desire to explore your sensual self to enhance your outside relationships?
Feel old patterns, technology, and 'to do'  lists exhausted? Need healing, reset, rejuvenation? 
In a cherry

. . . 
I create a sensual, serene, upscale and fashionable environment. For you, I always present my natural, beautiful, peaceful presence and healthy, lithe dancer physique. Together we explore sensuality, health and healing, spiritual and heart warming awaken, to inspire your greatest potential for love, happiness and peace of mind as you move about this busy world. 
Sensual Tantric Healing is your personal evolution, helping you peace in yourself. Through engaging in Tantra with a powerful and loving Dakini you will cultivate your inner tour de force, able to shift action into manifesting your dreams with pure intentions. Let me support you in weaving threads of grace, love, inspirationand integrity into fabric of your family and community.
Feel more of Oceana in your world
I offer sensual tantric video through OnlyFans Membership & Youtube Videos
ONLY FANS
Sensual Tantric Images ~ New posts often! ❤️
Engage in personalized Videos of Artful Tantric Slowness, Guided Inspiration, Sensual Images. Oceana offers a monthly subscription to Only Fans. "My private space to enlighten your Tantric Arts." Become a member today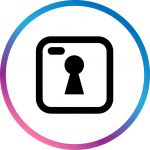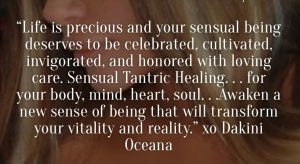 DONATE
To enhance your Tantric path, I gift you complimentary content and teachings on this site. If you are inspired and wish make a contribution to SBN Studio, you are welcome to here. 🌺 Your gifts are appreciated and dedicated to studio growth 🌺
Sensual by Nature Studio a sanctuary dedicated to Mindful Buddhist and Traditional Tantric Practice.
Sensual Tantric Dakini, Muse, Goddess of Love and Enlightened Sensuality